LG Oled C1 vs C2: Which is the best one you should buy?
We adore LG's high-end OLED TVs, especially the 'C' Class models that fall into the company's mid-range price bracket. But should you spend your money on the recently announced LG C2 (2022) or save some money by choosing the now much reduced LG C1 (2021)? You may choose wisely with the aid of this comparison of the LG Oled C1 vs C2 .
LG Oled C1 vs C2: Price
The five sizes of the 2021 LG C1 are 48 inches, 55 inches, 65 inches, 77 inches, and 83 inches. Prices for the 48-inch model initially started at £1299 / $1499 (AU$2800), although at this point, many discounts are available.
The sizes of the 2022 LG C2 are 42 inches, 48 inches, 55 inches, 65 inches, 77 inches, and 83 inches. Launch prices are generally comparable to those of the C1 and, in some circumstances, even lower; however, keep in mind that because the C1 is an older set, it will be eligible for a variety of enticing discounts.
You need to decide whether you want the newest, cutting-edge TV technology or whether you'd rather save a few hundred pounds or dollars. How cutting-edge the technology is and how big of a difference it makes to performance may very well determine the response.
LG Oled C1 vs C2: Design and Build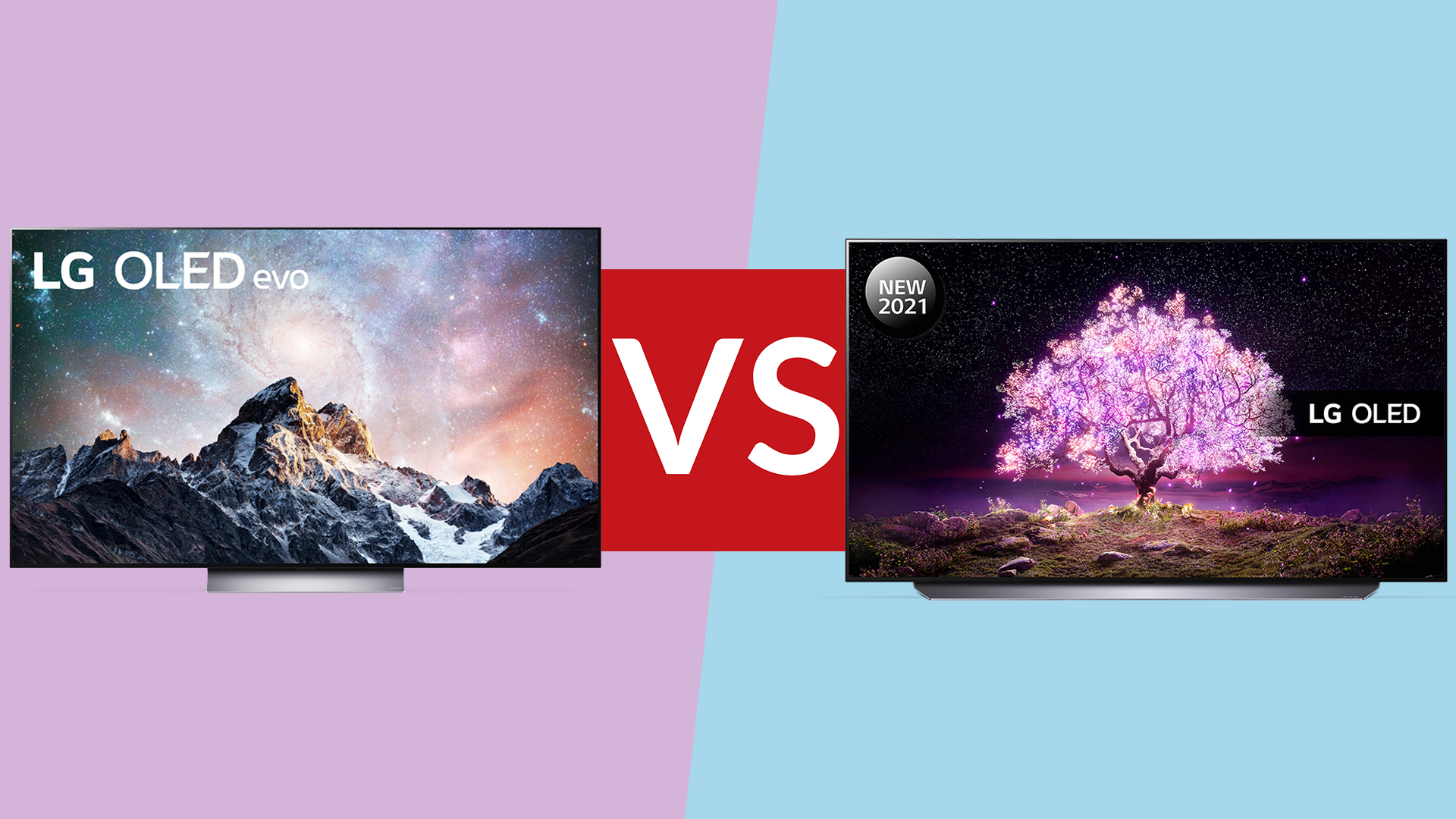 The LG C1 is a stylish TV with a 10.2mm bezel around the screen and an edge-to-edge glass surface. It is delivered in a box with a sophisticated pedestal stand and rests low to the surface on which it is put. Although it has a sleek appearance, this setup may not be the best if you want to fit a soundbar in the space under the TV.
The new C2 has a significantly improved design but has the same genes as the C1. The 42-inch model now has a pair of angular feet instead of a pedestal stand, and the bezel is considerably thinner (down from 10.2mm to 6mm). This is because LG believes that feet are better suited to a desktop setup because the OLED42C2 is intended to double as a gaming monitor. The stands for the other sizes are a little bit taller than those for the C1 and are thinner than those for the C1, making them better suited for standing on furniture. Which is extremely advantageous.
The C2 weighs an amazing 47% less than the C1, which should benefit those with weak backs. The new panel's use of a composite fiber material for cabinet construction is what accounts for the startling weight drop. This indicates that mounting the C2 to a rack or wall is much simpler than mounting its predecessor.
LG Oled C1 vs C2: Features
Thanks in large part to LG's powerful, app-rich webOS 6.0 smart TV platform, the 2021 LG C1 is a delight to use. Inside, LG's Gen 4 AI-enhanced CPU aids in producing sharp upscaling and vivid contrast. The majority of popular HDR codecs, including HDR10, HLG, and Dolby Vision, including Dolby Vision IQ, are supported, although Samsung's HDR10+ is not.
Four HDMI 2.1 ports that enable 4K@120Hz, VRR, and ALLM, as well as an HGIG option that can help you achieve the most accurate contrast from HDR games, are additional features. In other words, the C1 is among the greatest gaming TVs we've tested as well as one of the best OLED TVs.
The C2 switches from webOS 6.0 to webOS 22 in other places. The updated software offers a few improvements over webOS 6.0, including better personalization, NFC Magic Tap for mirroring mobile devices to an LG TV, and 'Always Ready', a new mode that shows artwork or pictures even when the TV is not in use. It can even respond to voice requests while in standby mode thanks to far-field microphones incorporated into the frame, so you can check the weather without turning on the TV nifty.
Compared to the C1, the C2 is an even better gaming TV. In order to prevent eye strain when playing in low light, a new "Dark Room" option has been added. Additionally, the transfer bandwidth of the HDMI 2.1 connections has been increased from 40Gbps to 48Gbps.
The LG Magic Remote controller and built-in Alexa and Google voice assistant compatibility are included with both the LG Oled C1 vs C2 models. Both devices support Dolby Vision HDR and Dolby Atmos audio in addition to all the popular streaming services, including Netflix, Amazon Prime Video, Disney+, and Apple TV (all of which have complete support for 4K). Additional streaming options include Sky's Now and the popular UK catch-up applications (BBC iPlayer, ITV Hub, All 4 and My5 in the UK).
LG Oled C1 vs C2: Picture Quality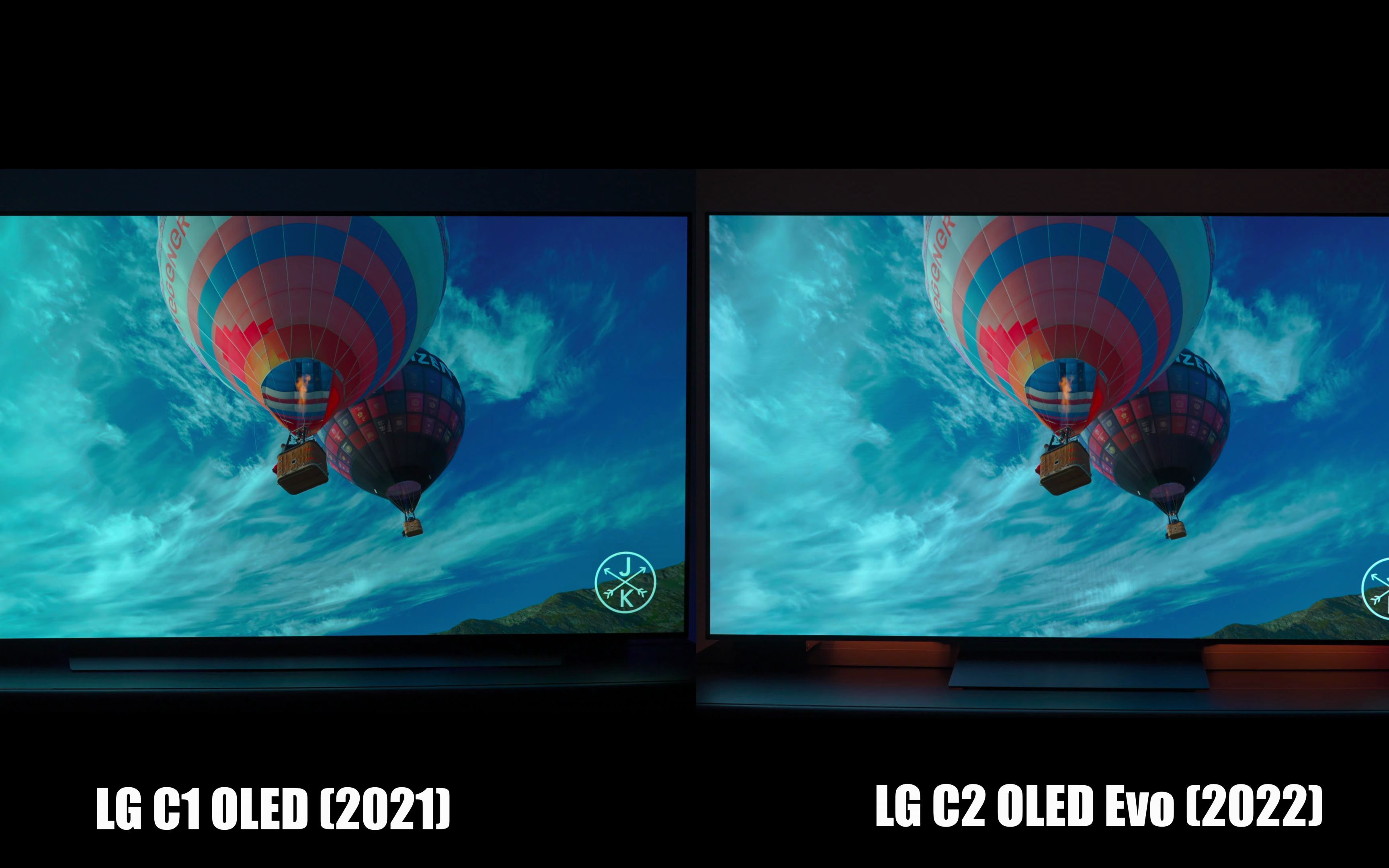 The type of display that is utilized is the primary distinction between the LG Oled C1 vs C2. The C2 has brighter OLED "Evo" technology, while the C1 opts for a regular OLED panel. This technology made its debut in the top-tier LG G1 OLED TV last year, but LG upgraded it for 2022 with a newly designed panel and CPU.
The C2's image is actually even better than the G1 from last year, and the G1 was excellent. When viewing Dolby Vision video, the increased brightness is notably obvious, but overall, the image has more punch and pop, with better contrast and darker detail. All of this without sacrificing the depth of the black or the colors. Incredible.
LG Oled C1 vs C2: Sound Quality
One area where LG's C-series TVs fell short of our expectations was sound. The C2 may not be flawless, but it is an advance over the C1 because it not only produces 7.1.2 virtual channels of sound (up from 5.1.2 on the C1) thanks to its AI Sound Pro virtual up-mixing technology, but it also sounds punchier and more interesting.
Despite a slight rattle, the C2 is still more enjoyable to listen to than the C1. Voices are better projected, and the sound is more realistic. Additionally, the audio is cleaner, smoother, and has greater weight and vitality.
Conclusion
Without a doubt, between LG Oled C1 vs C2, the LG C2 is a significant improvement over the C1. No matter what you're watching, it's brighter and has a lot more punch and pop. With even more features and a sleeker design, it not only looks better but also sounds better (although we strongly advise having a separate sound system).
The C1 is clearly the better value purchase since it continues to deliver excellent performance and more capabilities than the majority of users will ever need, and because discounts are growing and remaining consistent in the face of the newer model.
Please read: http://tech.blogtuan.info/review-mini-led-screen-m2-chip-released-in-2023.html
Tags :
LG Oled C1
LG Oled C1 vs C2
LG Oled C2